Home COVID-19 Test Kits - So You Can Reliably Diagnose Your Illness.
Diagnose your illness quickly in the comfort of your home without visiting a doctor.
Join our growing number of satisfied customers who received reliable at-home COVID tests at their door.
Fast Shipping Times
You can rely on us to deliver your test kits promptly so you can begin testing with confidence as soon as possible.
Affordable Pricing
Our commitment to making high-quality diagnostic testing accessible to everyone sets us apart from the rest, we pride ourselves on delivering top-notch home COVID-19 test kits at an affordable price.
Unrivaled Customer Care
Our customer care team is here to guide you through the testing process, answer any questions, and ensure you have a seamless experience.
COVID-19 Over-the-Counter (OTC) Tests
Flowflex COVID-19 Antigen Home Test - 288 tests/case
288 tests/case, $3.15/test Flowflex® provides a convenient solution to differentiate between COVID-19 and other respiratory illnesses.
CareStart COVID-19 Antigen Home Test - 464 tests/case
464 tests/case, $3.15/test CareStart™️ is your go-to choice for efficient testing, offering efficient and reliable results.
INDICAID COVID-19 Rapid Antigen Test - 252 tests/case
252 tests/case, $2.00/test INDICAID®️ makes testing straightforward, providing a solution to confirm infection.
Abbott BinaxNow Antigen Test - 24 tests/case
24 tests/case, $12.98/test The Abbott Antigen Test Kit is your efficient choice for testing, ensuring accurate results.
FaStep Assuretech Antigen Test - 600 tests/case
600 tests/case, $1.29/test FaStep Assuretech offers a simple way to differentiate between respiratory viruses.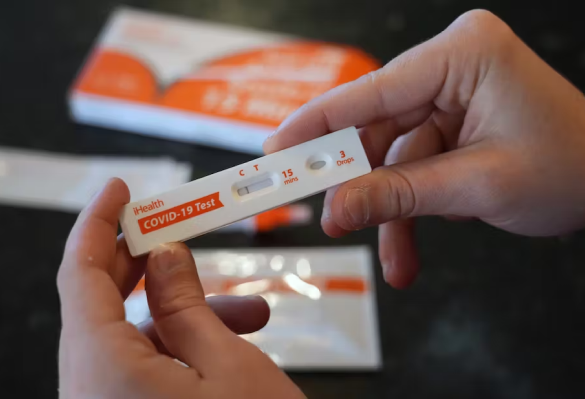 iHealth COVID-19 Antigen Rapid Test - 180 tests/case
iHealth offers a hassle-free way to confirm infection with swift and user-friendly results.
---
COVID-19 Testing for Home Use
Over-the-counter rapid tests are meticulously crafted to be both user-friendly and remarkably reliable, safe, and highly effective in detecting Coronavirus disease without the supervision of a healthcare provider. Whether you're an adult or a parent testing a child, our at-home tests provide a rapid, accurate, and hassle-free testing experience, making it easier than ever to diagnose COVID-19 symptoms and ensure the safety of your loved ones. Here are some key features of our tests:
Easy to Use

: Each COVID rapid test kit comes with convenient options like easy-to-follow instructions and video tutorials to ensure you can confidently perform the test in the comfort of your home.

Safe for Ages 2+: Our diagnostic tests are safe for most ages, ensuring comprehensive coverage. While an adult should assist children, they can be safely tested at home without medical supervision.
Quick and Reliable Results: Our rapid tests provide results in 10-15 minutes, ensuring you can quickly take action based on your test outcome. You can trust our tests' reliability to make informed decisions about your health.
Why Choose Global Supply Exchange?
Global Supply Exchange (GSE) is your solution to current market frustrations, offering distinct advantages as a female-owned business with a rich network of diverse suppliers. Our daily client interactions guarantee personalized attention and responsiveness to your needs, while our competitive pricing ensures affordability without compromising quality. Learn more about us and GSE's commitment to reliability in the diagnostics testing industry, combined with our caring and dedicated approach, as it establishes us as the dependable partner you can trust to fulfill your COVID testing needs. Learn more about us.
Frequently Asked Questions
At-home COVID-19 tests are highly accurate even when used by asymptomatic individuals just days after exposure. These tests utilize advanced technology to detect the virus reliably, ensuring accurate results for peace of mind. It's essential to follow the provided instructions carefully for the best results.
While the accuracy of at-home COVID tests may vary slightly by brand, the various tests available through GSE are highly reliable. We offer a range of options, allowing you to select the one that best suits your needs and preferences. Rest assured, regardless of your choice, you can expect accurate results.
Yes, at-home COVID tests are effective in detecting new variants of the virus. These tests are designed to target critical viral proteins, making them suitable for identifying various strains with accuracy and confidence. You can trust their ability to detect new variants and the original strain.
Ordering from GSE is a straightforward process. Simply navigate to the product you wish to purchase on our website and proceed to checkout with just a few clicks. Our team is also available to assist you throughout the process if needed. Order COVID tests today!