Reliable Bulk Strep Test Kits - So You Can Diagnose Quickly.
Get strep throat test kits rapidly when you purchase them in bulk.
Join our growing number of healthcare providers who received accurate Strep A tests.
Quick Shipping
Time is of the essence in healthcare. We are committed to swift delivery, ensuring your testing process remains on track.
Uninterrupted Supply
With GSE, rest assured that your supply of strep test kits remains steady. We've established strong partnerships with manufacturers, guaranteeing uninterrupted access.
Competitive Pricing Advantage
Our vast network and unique business model allow us to provide these vital test kits at an unbeatable price point, ensuring you get value for your money.
Strep Throat Tests
Explore our wide variety of tests for health professionals, including:
Point-of-Care (POC) tests
Strep Point-of-Care (POC) Tests
OSOM Strep A Test - 25 tests/kit
25 tests/kit, $3.36/test OSOM® offers fast results for a quick patient diagnosis.
Status Strep A Strip Test (POC) - CLIA Required - 30 tests/box
30 tests/box, $1.88/test Status is known to provide reliable test results quickly.
Status Strep A Flip Cassette Test (POC) - CLIA Waived - 25 tests/box
25 tests/box, $2.60/test Status is known for its marketing-leading accuracy in detecting Streptococcal infections.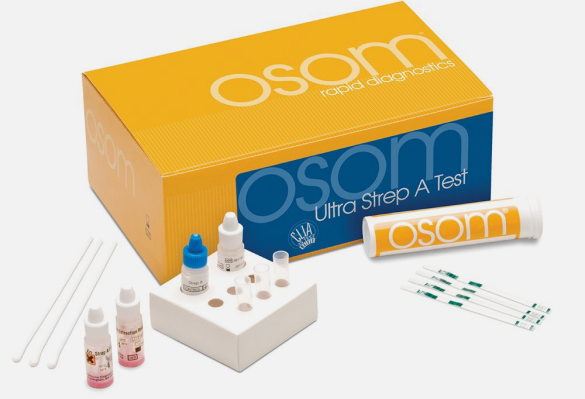 Ultra Strep A Test CLIA Waived - 25 tests/kit
25 tests/kit, $3.16/test Ultra combines the best of speed and accuracy for optimal patient outcomes.
---
Strep Testing for Business and Office Use
Our strep kits help diagnose bacterial infections while ruling out viral infections. Our tests are ideal for hospitals, urgent care facilities, physician offices, nursing homes, and more. Here are some key features of our kits:
Easy to use

: Crafted with user-friendly guidelines, these kits streamline the testing procedure.

Suitable for ages 2+

: Our kits cater to a broad age range, ensuring toddlers and adults get accurate diagnoses.

Quick results: Our kits are synonymous with speed and precision, facilitating timely patient care decisions.
Hospitals and Urgent Care Facilities
Rapid tests from GSE offer hospitals and urgent care centers the tools to diagnose and treat patients swiftly. Such efficiency reduces wait times and enhances patient care, solidifying their reputation for excellence.
Physician Offices and Laboratories
By utilizing a rapid test, physician offices and labs can provide accurate diagnoses and prescribe antibiotics when necessary. This immediate clarity builds patient trust and elevates the standard of care they offer.

Nursing Homes
Nursing homes prioritize the health of their residents; a reliable rapid testing kit enables early detection of infections. Swift identification ensures the safety of residents, highlighting the facility's dedication to optimum care.
Why Choose Global Supply Exchange?
Navigating the diagnostic testing market can be challenging. At GSE, we understand these challenges intimately. Our female-led team ensures daily interactions with clients, addressing their unique needs. We boast the distinct advantage of rostering clients to the NuEDGE GPO Alliance, part of the renowned Vizient. This alliance speaks to our credibility and commitment. Our proactive and compassionate approach to fulfilling diagnostic testing needs, and our ability to supply entire hospital systems make GSE a beacon of reliability in this sector. Learn more about us.
Frequently Asked Questions
Rapid strep tests, especially those from GSE, are at the pinnacle of diagnostic precision. These rapid tests typically incorporate throat swabs. Developed and engineered with utmost accuracy in mind, these tests undergo rigorous vetting processes. As a result, they demonstrate high sensitivity and specificity. This dedication to quality ensures that healthcare professionals can rely on these tests as a reliable tool for detecting Strep A infections.
In today's health-conscious world, there's a notable demand for over-the-counter diagnostic tests. However, when it comes to rapid tests, they are mainly tailored for medical professionals and institutional usage. The rationale is straightforward: Strep throat can have complications if not treated appropriately. Hence, professional diagnosis, followed by expert oversight, is indispensable for ensuring accurate results and subsequent treatment plans.
The versatility of our Strep POC tests makes them a preferred choice across a diverse spectrum of the healthcare industry. Whether you are an individual medical practitioner, a diagnostic lab, a vast medical institution, a military organization, or even a governmental agency, our tests are designed to cater to your needs. With a broad user base, GSE reaffirms its commitment to providing quality diagnostic solutions to all.
Embarking on your journey with GSE is straightforward. To procure our top-of-the-line strep tests, simply visit our website and add the desired products to your cart. Our user-friendly checkout process ensures a seamless experience. Once you've completed your purchase, our dedicated and passionate team will promptly ensure that your diagnostic needs are met efficiently and effectively. Buy strep throat test kits today!