Bulk Flu A & B Test Kits. Delivered Straight to Your Office.
Our bulk Flu A & B tests are your trusted solution for quick and accurate diagnosis.
Join our growing number of healthcare providers who received reliable Flu A & B tests.
In-Stock Supply
Never compromise on timeliness. Our consistent supply chain guarantees access to flu testing kits when most needed, a testament to our commitment to public health.
Competitive Pricing Advantage
In a fluctuating market, we ensure that our tests remain affordable, allowing healthcare providers to offer diagnostic solutions without breaking the bank.
Optimized Procurement Costs
Experience the efficiency of our procurement system, devised to offer bulk orders with reduced logistical costs, thus saving you money.
Flu A & B Tests
Status Flu A & B Test (POC) - CLIA Required - 25 tests/kit
25 tests/kit, $8.40/test Status is a point-of-care diagnostic test to diagnose influenza infections effectively.
---
Flu A & B Testing for Business and Office Use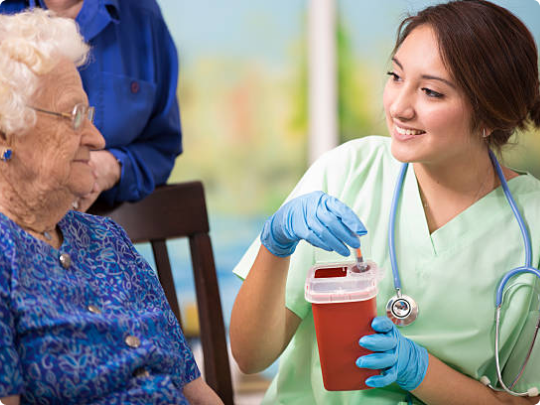 Our influenza kits provide peace of mind and convenience. These tests are the perfect solution for hospitals, urgent care facilities, physician offices, nursing homes, and more. Here are some key features of our kits:
Easy to use

: Our test kits are crafted for ease of use, ensuring they're accessible for both individuals and personnel.

Suitable for ages 2+:

Providing extensive coverage, our tests are suitable for individuals aged two and up.

Quick results: Our tests deliver quick outcomes, allowing for immediate detection of potential cases and the implementation of essential safety protocols.
Hospitals and Urgent Care Facilities
Efficient patient flow is crucial in fast-paced healthcare environments. Using GSE's flu A & B tests, facilities can expedite diagnosis, enhancing patient experience and health outcomes.
Physician Offices and Laboratories
Accuracy is paramount in diagnostic settings, building patient trust. GSE's precise testing kits enable swift diagnosis, bolstering healthcare provider reputation and patient satisfaction.
Nursing Homes
Elderly residents in nursing homes are especially susceptible to complications regardless of mild symptoms. Proactively monitor and diagnose, safeguard residents, and uphold your facility's reputation.
Why Choose Global Supply Exchange?
Amid a landscape of generic solutions, Global Supply Exchange shines brightly. As a proud female-owned enterprise, we believe in building relationships, not just client lists. Our affiliation with the NuEDGE GPO Alliance, part of Vizient, gives us a distinct advantage. We don't just offer products; we offer reliability, a deep understanding of the diagnostic testing landscape, and the capability to equip entire hospital systems. Learn more about Global Supply Exchange.
Frequently Asked Questions
For healthcare providers and businesses seeking flu tests, while there are numerous over-the-counter (OTC) options available, they primarily cater to individual convenience and quick results. Investing in specialized kits such as those provided by GSE for a more precise, professional-grade diagnosis is advisable. Engaging with a trusted diagnostic company ensures accuracy, comprehensive support, and guidance on best practices.
Diagnostic tests present a broad spectrum of accuracy among different brands. At GSE, precision isn't just a goal; it's an imperative. Our influenza test kits undergo meticulous quality checks, ensuring consistent and dependable results. But it's crucial to remember that the tool is only as effective as its user. Thus, meticulously following the provided instructions is pivotal to harnessing this accuracy, ensuring patient safety and appropriate care delivery.
At their core, Flu A & B tests are designed to detect specific types of influenza. These tests are crucial during cold and flu season to ensure prompt diagnosis and treatment. On the other hand, combo tests offer a more comprehensive diagnostic solution. They are engineered to detect both influenza strains and SARS-CoV-2 virus simultaneously. Given the overlap in symptoms, such as a sore throat, between the flu and COVID-19, combo tests are invaluable in today's healthcare landscape, enabling swift, targeted care based on accurate diagnostics.
Initiating an order with GSE is a breeze. Simply visit our website and explore our curated offerings to select the product that meets your needs. Our user-friendly interface allows you to purchase directly from the website, making the process quick and convenient. Our dedicated customer service team is also available to guide you through any step if needed. Buy Flu A & B tests from GSE today!